Posted by yatesyachts on Monday, September 29, 2014 at 10:28 pm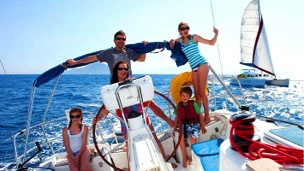 The experts at Yates Yachts will show you how a Caribbean sailing vacation is the easiest trip you will ever pack for. Simply follow our"Packing Tips" and arrive on board as a charter pro!
Here are our tips for what to bring on your crewed yacht charter.
Packing Tips
1. Pack Lightly, Carry-On & Avoid Lost Luggage Delays
Storage Space on a yacht is limited. Soft-sided duffels work best. Follow these tips and you can carry your bag on your flight. You don't want to miss precious vacation time waiting for your bathing suit to arrive!
2. Roll Your Clothes. Don't Fold.
You can fit more in your bag and leave some space for souvenirs!
3. Think About What You'll Be Wearing On Your Crewed Yacht Vacation
Daytime: Barefoot & fancy free! You'll be in your bathing suit most of the time. Having 1 or 2 extra swimsuits is great so you have a dry one to change into after a swim. UV swim shirts are great for protecting you from the sun while snorkeling.
Nighttime: Shorts & tees, or a comfy sundress, and you're dressed for dinner! If you plan to dine out, this uniform will work in most places. For fine dining at an upscale resort, men may be required to wear collared shirts and long pants after 5:00 pm.
Shoes: We recommend you invest in a comfortable pair of easy-on, easy-off sandals or flip-flops for excursions ashore. If you're a jogger or hiker, wear your running shoes on the plane to keep your bag light.
Winter Evenings: A lightweight long-sleeve shirt or windbreaker for cooler nights is advised in the winter months.

4. Find Out What Is Included
Towels, linens, and beach towels are provided on board. Ask Yates Yachts! The yacht you choose may provide complimentary toiletries, hair dryers, onboard laundry facilities and other amenities.
Your Sailing Vacation Essentials!
To help you get started packing, here are a few staples that you'll want to bring along:
2-3 bathing suits
Beach cover-up/Sundress
3-4 pairs of shorts/capris
4-5 tees/lightweight shirts
Easy-on easy-off sandals
Sunglasses
Hat
Walking/Hiking shoes
Medications
Camera, Memory Cards, & Camera Charger
Sunscreen SPF 15+
Passport
Souvenir money
Cash/Credit Cards
Toiletries
What Not to Pack
Jewelry- leave your precious gems and jewels at home. One lost diamond earring can mean a ruined vacation!
Illegal Drugs- Yes, Marijuana is still illegal in the islands, mon!
Too much cash- Most beach bars and shops accept credit cards. Some banks charge a "foreign transaction fee" when using your card outside the country. The fee is usually plus 3%. We advise you contact your bank before traveling so there are no surprises.
Contact Yates Yachts
If you would like to learn more information about our private yacht charters, we invite you to sign up online today so that we may help you put together your dream vacation. You can call our toll free number at (866) 994-7245 or our local number at (970) 871-6002. You may also email sherr[email protected] with any questions or concerns you might have.