Posted by yatesyachts on Thursday, July 9, 2015 at 4:58 pm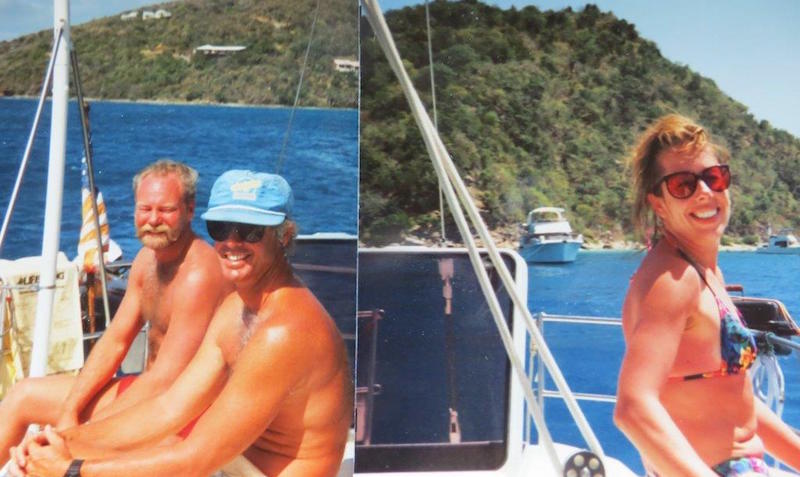 Words and phrases you don't want to hear when you're sailing:
"The floorboards are floating."
" The rudder fell off."
" We're out of rum."
And, our chapter for this week… "We have no steering!"
My cousin, John, is at the helm, spinning the wheel around and around, with no resistance. It's still gusting to 35 knots out here. Bill tells me to go below and strip our bed. I tear down the companionway, wondering why my husband wants clean sheets at a time like this. Nincompoop!   That heavy steel pipe that hangs in your cabin is the emergency tiller, and the attachment point is under your bed in the aft cabin.
The mattress is off the bed, sheets and pillows everywhere. I'm thinking, "This is it. We're in serious trouble now". My sister, Susan, is making the sign of the cross, asking where we keep the life vests. Oh, we of little faith! FOUR POINTS is a well-balanced sloop, and she's tracking beautifully under a double-reefed mainsail and jib. We're still headed to Cooper Island.
John is our designated driver. His legs are firmly braced against the wall and it's taking all his strength to keep us on course. FOUR POINTS is a center cockpit boat, so John is below with no line of sight. Bill communicates through the hatch, signaling left or right using hand signals. "Steer left" means push the tiller in the opposite direction of where Bill's pointing. Thank Neptune, John is a Salty Dog and knows what to do.
We're approaching Machioneel Bay.   We furl in the headsail and Bill lines us up on 2 overnight moorings. I'm on the bow with the boat hook. We turn into the wind and coast into harbor. If I miss the first one, there's another chance. Miraculously, I snag the pennant on the first try and tie us off. We're safe, in a pretty harbor, out of the wind.   It's time for a stiff "tots" all around before John and Bill dismantle the binnacle to discover the steering chain is broken.   We have the reason, but no replacement chain.
What else is there to do but head to the bar at the Cooper Island Beach Club and tell anyone who'll listen about our adventure? Naturally, the story became more and more harrowing as rum punches are consumed and the crowd gathers.
It's John's and Sue's last night on board. We have no way to get them to their plane tomorrow.  The ever-generous sailing community to the rescue! A visiting boat offered to sail them back. We later learned their rescue crew's motto was "Sail Naked". I do believe my relatives joined in the spirit of things.
Trumpets please?   "All Hail Prince Philip, Duke of Edinburgh!" His Highness is here in the BVI, and that's when things really started to get interesting…