Posted by yatesyachts on Friday, June 5, 2015 at 11:39 pm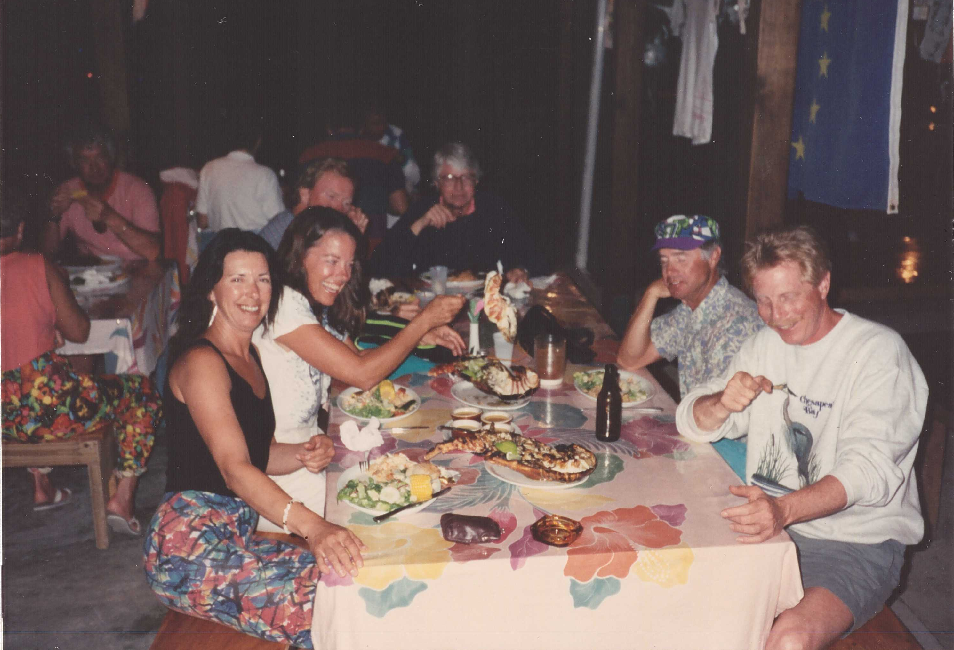 Chapter Three: I Could Use a Buick!
We are underway at last. Bill and I are no strangers to the US and British Virgin Islands, having bare-boated here multiple times with good friends. We returned to our favorite beaches and anchorages including Leinster Bay on St. John, Little Harbour on Peter Island, tiny Marina Cay and North Sound, Virgin Gorda.
The destinations may have been ideal, but our sailing skills, and FOUR POINTS' behavior, were pitiful.
The starter gave us fits. The heads smelled like…you know. And the renowned "Christmas Winds" were relentless. Even locals commented on their staying power. Dine in the cockpit? No way! Food flew off our plates. There was no relief except to huddle under the dodger.  All that wind made for tricky sailing, especially for us greenhorns.
I was miserable. What had we done? There was no home to go home to. This was it. Scared and filled with angst, I found a payphone (no cellphones yet) and called my girlfriend, Sam.
"Everything is going wrong! ", I sobbed. "We don't know what we're doing, it's blowing like stink, the boat is falling apart, and I think our marriage is in trouble. "
"Call me tomorrow", Sam said.
The next day, Sam told me she purchased 2 airline tickets and that she and her husband, John, would be flying down from Maryland to join us. I was elated! True to form, Sam asked "What do you need? You know I'd bring you a Buick if you asked for one. Or even an Amana freezer!" You only have to meet Sam once to know she would have found a way.
"All I need is you and that experienced sailor/ husband of yours. But be forewarned, the weather is lousy", I said.
Sure enough, Sam and John arrived for a week of perfect Caribbean weather and amazingly smooth sailing. Nothing broke, snapped, ripped, or blew up. FOUR POINTS behaved beautifully. I was buoyed by their compliments about my galley skills. I was finally getting the hang of preparing meals in a very small space.
With newfound confidence, we couldn't wait until our next visitors arrived. We picked up my sister, Susan, and cousin, John, from Tortola's Beef Island Airport. The old terminal was home to as many roosters and chickens as there were passengers. The Christmas winds had piped up again, so we spent the first 24 hours anchored at nearby Marina Cay. The next day it was blowing 25 knots steady, with higher gusts.
My cousin, John, has sailed all his life and didn't want to spend his short, 3-day visit on the hook. So, we double-reefed the mainsail and were off. We were the ONLY boat that was off. We figured nothing could possibly go wrong on the short sail over to Cooper Island.   Sue and John had to be back at the airport the next day, so we decided to head to Cooper Island for the night. Nothing beats the Beach Club for happy hour and conch fritters.
John was at the helm, grinning from ear to ear. We were flying.
Have you ever seen the cartoon where the driver of the car hands the steering wheel over to a passenger?
That's when things got interesting….