Posted by yatesyachts on Friday, May 15, 2015 at 12:00 pm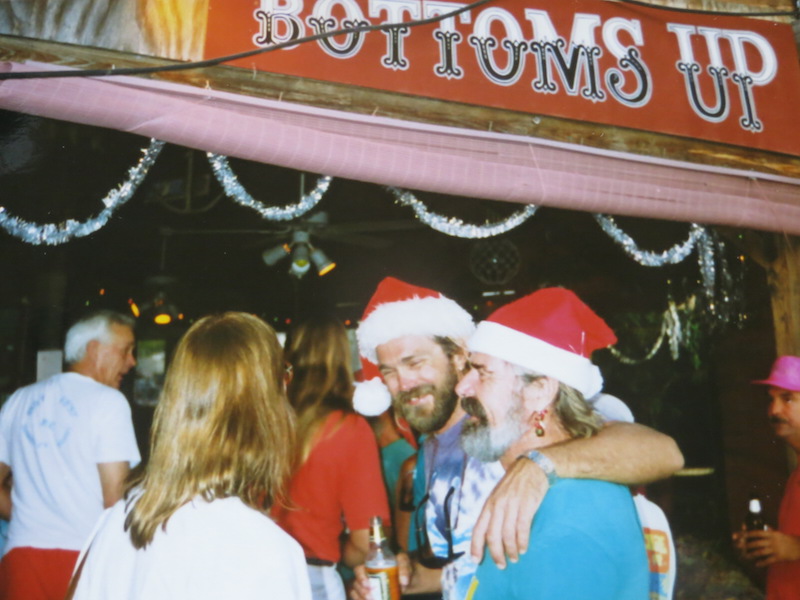 Chapter Two: Bottom's Up!
After 3 days of nail-biting, we gathered the courage to move our floating home. The thought of screwing up had me terrified. What if we sink? We'll be homeless. Or worse, we'll be dead and homeless.
We nosed FOUR POINTS out into Pillsbury Sound. We were on our way from St. John to Christmas Cove, a protected island off St. Thomas. It's a short trip, but the waves were steep, slamming into our port beam. We were rolling from gunnel to gunnel. After we anchored, we went below to find that FOUR POINTS had had herself a spirited pillow fight. Cushions were everywhere, including the galley sink. As we'd say after a particularly spectacular crash on the ski slopes, it was a total 'yard sale".
Happily, the sun was shining, the anchorage was calm, and the anchor was miraculously holding (you'll learn later why this was a miracle). We snorkeled and swam and watched the turtles come up for air. Ah, relaxation at last.
But it was time to get some work done. From late November 1992 until the end of the year, we spent more time at St. Thomas's Independent Boat Yard's work dock than anywhere else. Once, when the engine wouldn't start, I thought, this is it. Sure, FOUR POINTS has sails, but the narrow channel into the boat yard was barely 2 boat widths wide. We don't have that kind of skill. We are stranded.
Luckily, we learned about 'hip towing'. We tied the dinghy to our stern quarter to act as propulsion. Bill started up the 15-hp outboard. I was at the helm. Ever so slowly, but with enough speed to maintain steerage, we entered the lagoon. I had radioed the yard on the VHF (no cellphones yet) letting them know of our plan. Trying to keep the panic out of my voice I radioed in. "We're close and we have no engine. Please be ready take our lines".
Okay. I see it. There's the dock. Bill put the dinghy engine in reverse to slow us down. He climbed on board and prepared to toss the lines to…to…NO ONE! Not a soul in site. We're going to overshoot the dock and smash into the concrete bulkhead. The guys in the yard were watching the whole thing from behind the chandlery, no doubt taking bets on when the bug-eyed chick at the helm would jump overboard to save her butt. With time to spare, they secured us to the dock.
We enlisted help from a local electrician and others. Bill has a head for mechanics, but, before we left the States, we had shipped all his tools. Four weeks and counting, our boxes were still MIA. Bill had exactly one Leatherman to serve as his toolkit (and, more importantly, our corkscrew). While he was playing contortionist in the sweltering confines of the engine room, I was utterly lost. What am I supposed to do? I can't set up house because our stuff hasn't arrived yet (no pots, pans, utensils, music or the means to play it). I know nothing about varnishing and I can't sew a button on so it will stay. Trips to the market only made me more anxious. I didn't know what half the stuff was for.
"What the hell is a christophine?!"
The holidays are upon us, we're in the Caribbean, and we're stuck in a boat yard filled with toxic dust, eye-watering smells, and ravenous mosquitoes. Our dream of celebrating "Old Year's Night" at Foxy's on Jost Van Dyke, THE place to ring in the New Year, went bust.
Instead, we became regulars at "Bottoms Up", the boatyard's funky watering hole.
We met some real characters here. I secretly assigned nicknames to the regulars at the horseshoe-shaped bar. Here comes 'Dusty' of ZZ Top fame, with his signature chest-length beard. To this day, I'm unsure why, but I named one regular 'Seldom Seen Smith', one of my favorite fictional characters from Edward Abbey's "The Monkey Wrench Gang". Bill, then owner of BOTTOMS UP, was 'Popeye'. Bill was a good friend and wiped many tears from my eyes. Godspeed, Bill.
One day at BOTTOMS UP, I overheard the girl in the hammock talking about her Dad on St. Croix and about her plans to return to "The Ice". I remembered one of my High School classmates had a sister who was working in Antarctica. Could that be the ice? I also knew their Dad had a home in the Caribbean.
"Excuse me", I interrupted. "I couldn't help but hear your conversation. Did you have a brother named Peter who lives in Madison, Connecticut?"
Her eyes popped out of her head. "How'd you know that?" she asked. And that's how I met my first friend in the Caribbean, Cheryl. Cheryl and I went to the beach and to K-Mart to get me a frying pan. She took me to clinic after I sliced open my shin, and she kept me sane. She even taught me what to do with a christophine (anything you can! They have no flavor). Boat yards are testosterone-dominated outposts. It was great to have another female to talk to. Thanks, Cheryl!
At last, we have refrigeration. We have food and drink, a new heat exchanger, repaired sails, a rebuilt starter, and pretty new saloon cushions. It is time for a celebratory drink.
"BOTTOMS UP!" We're outta here!