TWIN FLAME 77
$82,000 - $100,000 / WEEK
---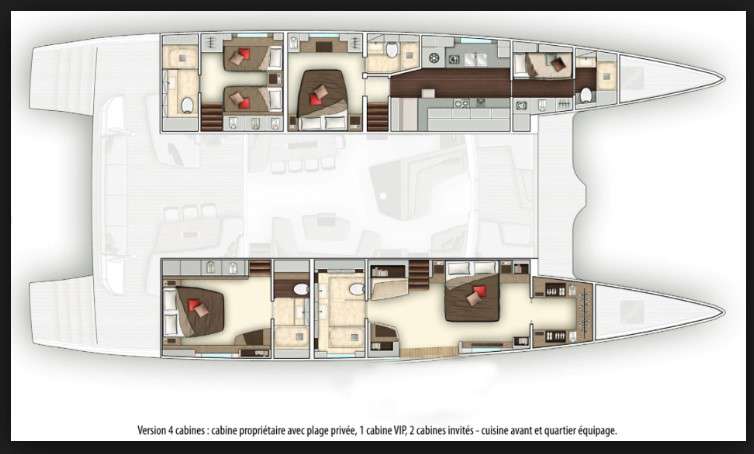 Boat Details
| | |
| --- | --- |
| Cabins: | 4 |
| Queen: | 4 |
| Single Cabins: | 1 |
| Showers: | 4 |
| Wash Basins: | 4 |
| Heads: | - |
| Electric Heads: | 4 |
Pick Up Locations
| | |
| --- | --- |
| Pref. Pick-up: | Tortola |
| Other Pick-up: | Tortola |
---
Details
| | |
| --- | --- |
| Refit: | - |
| Helipad: | No |
| Jacuzzi: | No |
| A/C: | Full |
Engine Details
2 x 230 HP John Deere engines. 21 KW Generator.
Fuel Consumption:
-
Cruising Speed:
-
Max Speed:
-
Locations
| | |
| --- | --- |
| Winter Area: | Caribbean Virgin Islands (US/BVI), Caribbean Windwards, Caribbean Virgin Islands (BVI) |
| Summer Area: | Caribbean Virgin Islands (US/BVI), Caribbean Windwards, Caribbean Virgin Islands (BVI) |
---
Amenities
| | |
| --- | --- |
| Salon Tv/VCR: | - |
| Salon Stereo: | Yes |
| Sat Tv: | - |
| # of Videos: | - |
| # DVDs/Movies: | Yes |
| # CD's: | - |
| Camcorder: | - |
| Books: | Yes |
| Board Games: | Yes |
| Sun Awning: | Yes |
| Deck Shower: | Yes |
| Bimini: | Yes |
| Water Maker: | Yes - 78 G |
| | |
| --- | --- |
| Special Diets: | Inq |
| Kosher: | No |
| BBQ: | Yes |
| # Dine In: | Yes |
| Minimum Age: | None |
| Generator: | 21 KW |
| Inverter: | 2 x 3000 Watts |
| Voltages: | 110V |
| Water Maker: | Yes - 78 G |
| Water Cap: | - |
| Ice Maker: | Yes |
| Sailing Instructions: | No |
| Internet Access: | - |
| | |
| --- | --- |
| Gay Charters: | Yes |
| Nude: | Yes |
| Hairdryers: | Yes |
| # Port Hatches: | - |
| Guests Smokes: | Stern steps only |
| Crew Smokes: | No |
| Pets Aboard: | No |
| Pet Type: | - |
| Guest Pets: | No |
| Children Ok: | Yes |
| Hammock: | Yes |
| Windscoops: | - |
---
Water Sports
| | |
| --- | --- |
| Dinghy size: | 16.5 ft |
| Dinghy hp: | 90 |
| Dinghy # pax: | 10 |
| Water Skis Adult: | Yes |
| Water Skis Kids: | Yes |
| Jet Skis: | No |
| Wave Runners: | No |
| Kneeboard: | Yes |
| Windsurfer: | No |
| Snorkel Gear: | Yes |
| Tube: | Yes |
| | |
| --- | --- |
| Scurfer: | No |
| Wake Board: | No |
| Kayaks 1 Pax: | 2 |
| Kayaks (2 Pax): | 1 |
| Floating Mats: | Yes |
| Swim Platform: | Stern Steps |
| Boarding Ladder (Loc/Type): | Stern |
| Sailing Dinghy: | No |
| Beach Games: | - |
| Fishing Gear: | Yes |
| Gear Type: | Trolling & Casting |
| Rods: | 3 |
Captain Kieran Bown & First Mate Michelle Preciado

Kieran & Michelle met back in 2012 in Mexico whilst working in the dive industry as instructors and photographers. Since then they have been on an unstoppable adventure that has taken them across the Caribbean, Americas, Europe & SE Asia.

They have now been in the charter industry for 8 years and are definitely enjoying their home in the British Virgin Islands. A country full of history and secrets that has allowed them to slowly discover more and more as their adventure continues.

Both Kieran & Michelle were led to the ocean by a passion for scuba diving and adventure, it is was this passion that formed the foundation for a life destined on the ocean. Being on boats has been an integral part of their lives since they were young and it was a natural progression to move on to running sailing yachts in the Caribbean.

Michelle is your 1st Mate onboard. She's an experienced sailor, holding her RYA Day Skipper, a PADI Dive Instructor and extremely competent Watersport's instructor whether it's surfing, foiling, wakeboarding or Free diving she's got you covered. If that wasn't enough she's also professionally culinary trained and has worked as a yacht chef for 5 seasons.

Kieran is an accomplished diver as well as Captain. He enjoys most water sports and has a keen interest in marine life.

Following Irma & Maria in 2017, Kieran & Michelle spent 15 months living on Tortola rebuilding a hurricane damaged catamaran and returned it to the charter fleet. This was an invaluable experience for any charter crew rebuilding a yacht from the ground up and learning every aspect of the rebuild, repairs and upgrades along the way. Here they collectively developed a strong knowledge of Boat Building, Project Management and general Marine Engineering.

In addition to working on charter yachts, Kieran & Michelle's other passion is adventure and photography. It is this combination that led to the birth of Panga Expedtions. For the past 10 years they have been travelling the world, capturing incredible footage from both above and below the surface and have been featured on countless National TV Channels/Online Media Oulets including Nat Geo, Discovery, Shark Week, GoPro & Google. Whilst enjoying brief sponsorships from GoPro, Light & Motion and other adventure sport companies to help capture incredible footage.


Chef Renata Himiona

Qualifications:
Ashburton Culinary Academy Yacht Chef Certificate
STCW & ENG1
Intermediate Cookery Course-The Avenue Cookery School, London 2022
Cooking Basics & French Cooking Techniques-Cook Your Life, Amsterdam 2020
Food Safety Level Two-The Avenue Cookery School, London 2020
RYA Day Skipper

Renata, born and raised in coastal northern New Zealand, has always been close to nature and the water. Seeing her mother's passion for food and garden-to-table cooking from a young age, she experienced the joy that surrounds a beautifully prepared family meal.

Moving to Europe in her mid-twenties, Renata spent time living in London and Amsterdam, relishing the chance to travel, taste and cook during holidays from her corporate job. It was in Europe that she fell in love with sailing, and decided to take the leap to combine her passions of cooking and being on the water. She completed her Day Skipper certification, and after formalizing her culinary skills, began hosting charters in Croatia and Greece. Following a busy summer in the Mediterranean, she realized her dream of crossing the Atlantic Ocean by sail, managing the provisioning and cooking for the nine people onboard.

Renata's favorite dishes include a mix of Middle Eastern, Mediterranean, and Asian, all influenced by the classic New Zealand cuisine she grew up with. In saying that, she is always excited to discover new flavors, spices and cooking styles, and loves to try new things. She enjoys exploring local food markets to find new and exotic ingredients, and looks forward to sharing these discoveries with you in the Virgin Islands.

Renata can't wait to welcome you aboard Twin Flame to experience the beautiful Virgin Islands, and to create memories of a lifetime!


Anais Moyen

Qualifications
STCW 2010, Dec 2020
ENG 1, Dec 2020
TENDER DRIVER LICENCE, 2018
PADI DIVE MASTER, 2021

Originally from Belgium, Anais grew up on the ocean loving island of Tahiti in the South Pacific. She graduated with a Masters in Economics and Business she spent most of her twenties managing several businesses' (including hospitality and retail) while kitesurfing and scuba diving in her free time. After stepping out to spend a year cruising French Polynesia on a private sailboat with her partner, she decided to transition into the professional yachting industry full time working on a range of superyachts and catamarans.

With an attentive easy-going nature oriented toward great customer service, Anais combines her previous experience to explore the Caribbean as our rock star stewardess on Twin Flame, creating a first class environment for our guests to relax and enjoy.

(15 December -30 April)
Caribbean Virgin Islands (US/BVI), Caribbean Windwards, Caribbean Virgin Islands (BVI)
(1 May - 14 December)
Caribbean Virgin Islands (US/BVI), Caribbean Windwards, Caribbean Virgin Islands (BVI)
| | | | | | | | | | | | | | | | | | | | | | | | | | | | | | | | |
| --- | --- | --- | --- | --- | --- | --- | --- | --- | --- | --- | --- | --- | --- | --- | --- | --- | --- | --- | --- | --- | --- | --- | --- | --- | --- | --- | --- | --- | --- | --- | --- |
| Aug 2023 | 1 | 2 | 3 | 4 | 5 | 6 | 7 | 8 | 9 | 10 | 11 | 12 | 13 | 14 | 15 | 16 | 17 | 18 | 19 | 20 | 21 | 22 | 23 | 24 | 25 | 26 | 27 | 28 | 29 | 30 | 31 |
| Sep 2023 | 1 | 2 | 3 | 4 | 5 | 6 | 7 | 8 | 9 | 10 | 11 | 12 | 13 | 14 | 15 | 16 | 17 | 18 | 19 | 20 | 21 | 22 | 23 | 24 | 25 | 26 | 27 | 28 | 29 | 30 | |
| Oct 2023 | 1 | 2 | 3 | 4 | 5 | 6 | 7 | 8 | 9 | 10 | 11 | 12 | 13 | 14 | 15 | 16 | 17 | 18 | 19 | 20 | 21 | 22 | 23 | 24 | 25 | 26 | 27 | 28 | 29 | 30 | 31 |
| Nov 2023 | 1 | 2 | 3 | 4 | 5 | 6 | 7 | 8 | 9 | 10 | 11 | 12 | 13 | 14 | 15 | 16 | 17 | 18 | 19 | 20 | 21 | 22 | 23 | 24 | 25 | 26 | 27 | 28 | 29 | 30 | |
| Dec 2023 | 1 | 2 | 3 | 4 | 5 | 6 | 7 | 8 | 9 | 10 | 11 | 12 | 13 | 14 | 15 | 16 | 17 | 18 | 19 | 20 | 21 | 22 | 23 | 24 | 25 | 26 | 27 | 28 | 29 | 30 | 31 |
| Jan 2024 | 1 | 2 | 3 | 4 | 5 | 6 | 7 | 8 | 9 | 10 | 11 | 12 | 13 | 14 | 15 | 16 | 17 | 18 | 19 | 20 | 21 | 22 | 23 | 24 | 25 | 26 | 27 | 28 | 29 | 30 | 31 |
| Feb 2024 | 1 | 2 | 3 | 4 | 5 | 6 | 7 | 8 | 9 | 10 | 11 | 12 | 13 | 14 | 15 | 16 | 17 | 18 | 19 | 20 | 21 | 22 | 23 | 24 | 25 | 26 | 27 | 28 | 29 | | |
| Mar 2024 | 1 | 2 | 3 | 4 | 5 | 6 | 7 | 8 | 9 | 10 | 11 | 12 | 13 | 14 | 15 | 16 | 17 | 18 | 19 | 20 | 21 | 22 | 23 | 24 | 25 | 26 | 27 | 28 | 29 | 30 | 31 |
| Apr 2024 | 1 | 2 | 3 | 4 | 5 | 6 | 7 | 8 | 9 | 10 | 11 | 12 | 13 | 14 | 15 | 16 | 17 | 18 | 19 | 20 | 21 | 22 | 23 | 24 | 25 | 26 | 27 | 28 | 29 | 30 | |
| May 2024 | 1 | 2 | 3 | 4 | 5 | 6 | 7 | 8 | 9 | 10 | 11 | 12 | 13 | 14 | 15 | 16 | 17 | 18 | 19 | 20 | 21 | 22 | 23 | 24 | 25 | 26 | 27 | 28 | 29 | 30 | 31 |
| Jun 2024 | 1 | 2 | 3 | 4 | 5 | 6 | 7 | 8 | 9 | 10 | 11 | 12 | 13 | 14 | 15 | 16 | 17 | 18 | 19 | 20 | 21 | 22 | 23 | 24 | 25 | 26 | 27 | 28 | 29 | 30 | |
| Jul 2024 | 1 | 2 | 3 | 4 | 5 | 6 | 7 | 8 | 9 | 10 | 11 | 12 | 13 | 14 | 15 | 16 | 17 | 18 | 19 | 20 | 21 | 22 | 23 | 24 | 25 | 26 | 27 | 28 | 29 | 30 | 31 |
---