JUST ENOUGH
$139,000 - $149,000 / WEEK
---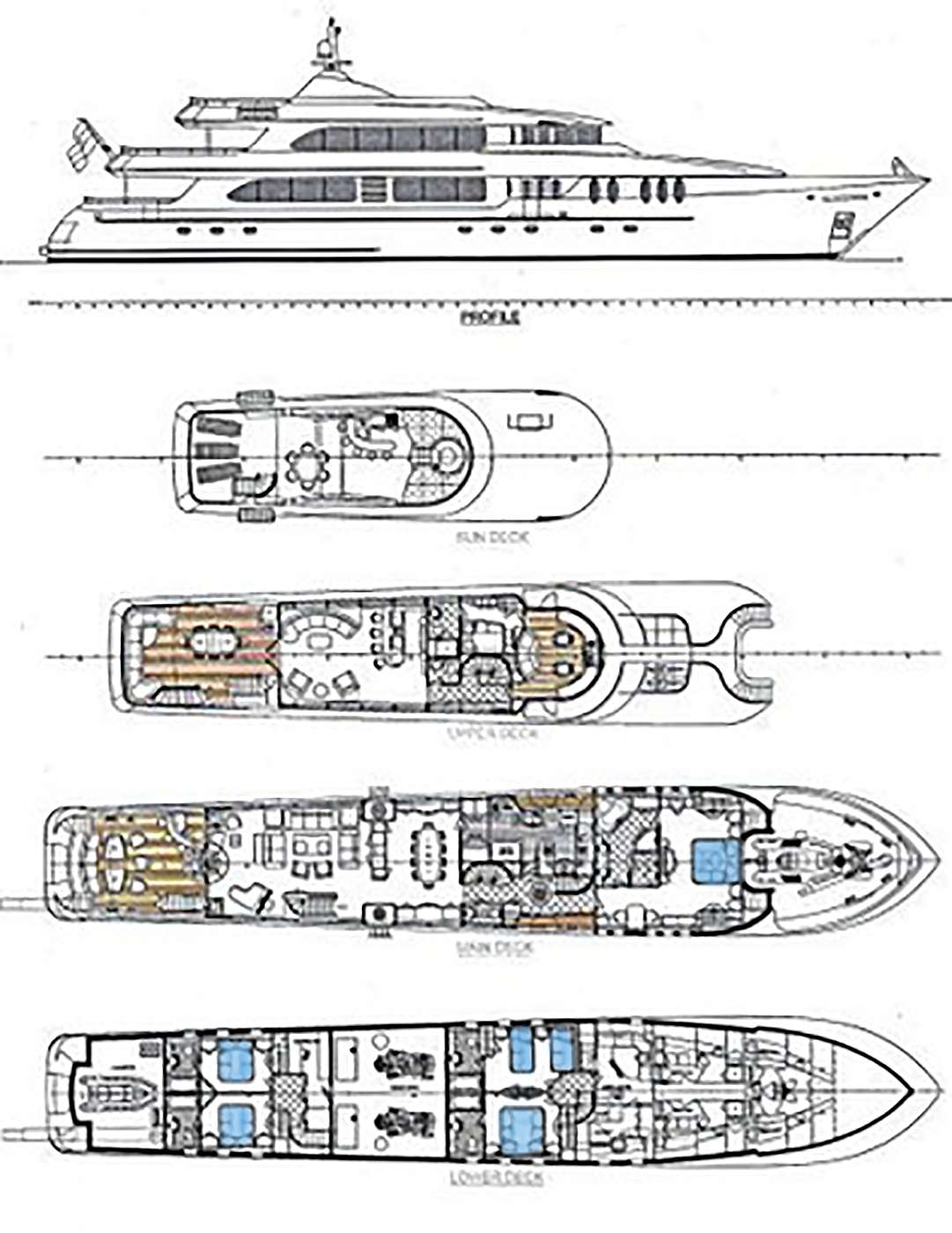 Boat Details
| | |
| --- | --- |
| Cabins: | 5 |
| Queen: | 2 |
| Single Cabins: | 1 |
| Showers: | - |
| Wash Basins: | - |
| Heads: | - |
| Electric Heads: | - |
Pick Up Locations
| | |
| --- | --- |
| Pref. Pick-up: | Fort Lauderdale, FL |
| Other Pick-up: | - |
---
Details
| | |
| --- | --- |
| Refit: | 2018 |
| Helipad: | No |
| Jacuzzi: | Yes |
| A/C: | Full |
Engine Details
REFIT 2018-Engine/Crane/Generator overhaul. Sewage system and tanks cleaned and overhauled, water tank cleaned and painted, all new crew heads and flooring, new fresh air makeup system, new engine room ventilation system, new flooring in lazarette, new air handlers, new ac chiller. 2 x Caterpillar C32 1652 HP 2 x John Deere 92kW – 3 phase, 60Hz Watermaker (55gal/hour) Zero speed stabilizers (ABT TRAC)
Fuel Consumption:
65
Cruising Speed:
12
Max Speed:
18US Gall/Hr
Locations
| | |
| --- | --- |
| Winter Area: | USA - Florida East Coast |
| Summer Area: | USA - Florida East Coast |
---
Amenities
Salon Tv/VCR:
Yes
Salon Stereo:
Yes
Sat Tv:
WiFi
Cellular


# of Videos:
-
# DVDs/Movies:
-
# CD's:
-
Camcorder:
-
Books:
-
Board Games:
-
Sun Awning:
Yes
Deck Shower:
Yes
Bimini:
-
Water Maker:
-
| | |
| --- | --- |
| Special Diets: | Inq |
| Kosher: | Inq |
| BBQ: | - |
| # Dine In: | - |
| Minimum Age: | - |
| Generator: | - |
| Inverter: | - |
| Voltages: | - |
| Water Maker: | - |
| Water Cap: | - |
| Ice Maker: | - |
| Sailing Instructions: | 14' |
| Internet Access: | Onboard WIFI |
| | |
| --- | --- |
| Gay Charters: | Inq |
| Nude: | Inq |
| Hairdryers: | Yes |
| # Port Hatches: | - |
| Guests Smokes: | - |
| Crew Smokes: | No |
| Pets Aboard: | No |
| Pet Type: | - |
| Guest Pets: | No |
| Children Ok: | Yes |
| Hammock: | - |
| Windscoops: | - |
---
Water Sports
| | |
| --- | --- |
| Dinghy size: | Walker Bay Generation 450 Tender. new 2018 |
| Dinghy hp: | 450 |
| Dinghy # pax: | - |
| Water Skis Adult: | Yes |
| Water Skis Kids: | - |
| Jet Skis: | - |
| Wave Runners: | 2 |
| Kneeboard: | - |
| Windsurfer: | - |
| Snorkel Gear: | Yes |
| Tube: | Yes |
| | |
| --- | --- |
| Scurfer: | - |
| Wake Board: | Yes |
| Kayaks 1 Pax: | - |
| Kayaks (2 Pax): | - |
| Floating Mats: | - |
| Swim Platform: | - |
| Boarding Ladder (Loc/Type): | - |
| Sailing Dinghy: | 14' |
| Beach Games: | Yes |
| Fishing Gear: | Yes |
| Gear Type: | - |
| Rods: | - |
Captain George Mylonopoulos
Bio Coming Soon!

Michael Wilson - Chef - English
From a hotel and restaurant background, Michael moved to yachting in 1998 and ha circumnavigated the globe twice, visiting many remote and unusual places onboard busy charter yachts. His repertoire of cuisine has been influenced by these travels and he has a passion for experimenting with different ingredients to produce a modern twist to dishes - from molecular to classic.
Michael formally trained at Salisbury College UK, then continued his training in Barcelona for textures, modifiers and molecular cooking. Always one to improve is craft, Michael also studied at the Tokyo Sushi Academy, the Sushi Academy of Singapore, Macaron Pastry Training Centre in Bangkok, The National School of Culinary Arts In San Diego and the chef Academy in London. He is also well versed in vegetarian, vegan, Thai, Gluten Free, Fusion, Fish Butchery and Game fabrication.
Michael only used healthy fresh ingredients and everything is made from scratch. From hors d'oeurvres to a formal dinner to a midnight snack, his culinary delights will tantalize even the most discerning taste buds. The love for his craft is apparent and infectious, and charter guests will 'eat this up' when they come on board M/Y Just Enough!

Steve Migues - Chief Engineer -American
Steve loves to travel. He has traveled extensively all over the globe... 5 Continents, 68 International cities and all 50 states. He has experience with all kinds of yachts, big and small. Anything from 35' racing sailboats to 150' Mega Yachts. He spent a lot of time in the South Pacific... Bora Bora, Tahiti, The Cooks, American, Samoa, Tonga, Fiji, Sydney, Melbourne, Singapore, Kuala Lumpur and much more. He also spent a lot of time in Europe... England, Spain, France, Brussels, Sweden, and South America... Rio, Sao Paulo, Buenos Aires, Caracus, Lima and Santiago. Ask him about his crossing of the South Pacific in a 90 year old, iron schooner, lol, or his 1 day trips from Dallas to Sydney..... Steve is here to make your experience on "Just Enough", more than just enough, he wants to make it the best time you've ever had! Welcome aboard!

Christy Goohs – 2nd Stew – American
She is organized, service orientated and dedicated in going above and beyond. With her bubbly demeanor, you will rarely see her without a smile. She is a great addition to this dynamic charter program with her eagerness and knowledge that is required to deliver a 5-star service to the guests. Culinary trained by CIA, Christy also shares a passion for wine and is on progress with her steps to becoming a master sommelier. Her other interests include is scuba diving, fishing, water sports, roller-skating, yoga classes. Christy is thrilled to share the magic of the Caribbean/Virgin Islands and to create new holiday memories with you aboard M/Y JUST ENOUGH!

Angus MacMillan - Bosun - South African/American
Born and raised in sunny South Africa, Angus has always had a passion for traveling, adventure, exotic locations, health and fitness. 16 countries later and he now calls South Florida home. A firm believer in expanding your comfort zones in all areas of life, he has taken advantage of some extreme adventure activities including skydiving, bungee jumping, rock climbing, zip-lining, white river rafting and downhill mountain biking. Angus' background in yachting has given him two years of Superyacht Charter experience throughout the Exuma's in the Bahamas, USVI's, BVI's, Sint Maarten and St
Barths. He aims to provide you with a professional, relaxing, fun and adventurous getaway, all whilst capturing some of the most memorable moments in the Caribbean.

Dan Mutz - Deckhand - American
Daniel is from Tampa, Florida and started yachting in November of 2019. Coming from a military family, Daniel enjoys structure, hard work, and travel! Some of his interest include gaming, anime, and history podcasts. Daniel is looking to take martial arts and studying abroad in Japan in the future. Daniel is ready to welcome you to the yacht for a week full of adventure and fun on the water toys!
(15 December -30 April)
USA - Florida East Coast
(1 May - 14 December)
USA - Florida East Coast
| | | | | | | | | | | | | | | | | | | | | | | | | | | | | | | | |
| --- | --- | --- | --- | --- | --- | --- | --- | --- | --- | --- | --- | --- | --- | --- | --- | --- | --- | --- | --- | --- | --- | --- | --- | --- | --- | --- | --- | --- | --- | --- | --- |
| Jun 2023 | 1 | 2 | 3 | 4 | 5 | 6 | 7 | 8 | 9 | 10 | 11 | 12 | 13 | 14 | 15 | 16 | 17 | 18 | 19 | 20 | 21 | 22 | 23 | 24 | 25 | 26 | 27 | 28 | 29 | 30 | |
| Jul 2023 | 1 | 2 | 3 | 4 | 5 | 6 | 7 | 8 | 9 | 10 | 11 | 12 | 13 | 14 | 15 | 16 | 17 | 18 | 19 | 20 | 21 | 22 | 23 | 24 | 25 | 26 | 27 | 28 | 29 | 30 | 31 |
| Aug 2023 | 1 | 2 | 3 | 4 | 5 | 6 | 7 | 8 | 9 | 10 | 11 | 12 | 13 | 14 | 15 | 16 | 17 | 18 | 19 | 20 | 21 | 22 | 23 | 24 | 25 | 26 | 27 | 28 | 29 | 30 | 31 |
| Sep 2023 | 1 | 2 | 3 | 4 | 5 | 6 | 7 | 8 | 9 | 10 | 11 | 12 | 13 | 14 | 15 | 16 | 17 | 18 | 19 | 20 | 21 | 22 | 23 | 24 | 25 | 26 | 27 | 28 | 29 | 30 | |
| Oct 2023 | 1 | 2 | 3 | 4 | 5 | 6 | 7 | 8 | 9 | 10 | 11 | 12 | 13 | 14 | 15 | 16 | 17 | 18 | 19 | 20 | 21 | 22 | 23 | 24 | 25 | 26 | 27 | 28 | 29 | 30 | 31 |
| Nov 2023 | 1 | 2 | 3 | 4 | 5 | 6 | 7 | 8 | 9 | 10 | 11 | 12 | 13 | 14 | 15 | 16 | 17 | 18 | 19 | 20 | 21 | 22 | 23 | 24 | 25 | 26 | 27 | 28 | 29 | 30 | |
| Dec 2023 | 1 | 2 | 3 | 4 | 5 | 6 | 7 | 8 | 9 | 10 | 11 | 12 | 13 | 14 | 15 | 16 | 17 | 18 | 19 | 20 | 21 | 22 | 23 | 24 | 25 | 26 | 27 | 28 | 29 | 30 | 31 |
| Jan 2024 | 1 | 2 | 3 | 4 | 5 | 6 | 7 | 8 | 9 | 10 | 11 | 12 | 13 | 14 | 15 | 16 | 17 | 18 | 19 | 20 | 21 | 22 | 23 | 24 | 25 | 26 | 27 | 28 | 29 | 30 | 31 |
| Feb 2024 | 1 | 2 | 3 | 4 | 5 | 6 | 7 | 8 | 9 | 10 | 11 | 12 | 13 | 14 | 15 | 16 | 17 | 18 | 19 | 20 | 21 | 22 | 23 | 24 | 25 | 26 | 27 | 28 | 29 | | |
| Mar 2024 | 1 | 2 | 3 | 4 | 5 | 6 | 7 | 8 | 9 | 10 | 11 | 12 | 13 | 14 | 15 | 16 | 17 | 18 | 19 | 20 | 21 | 22 | 23 | 24 | 25 | 26 | 27 | 28 | 29 | 30 | 31 |
| Apr 2024 | 1 | 2 | 3 | 4 | 5 | 6 | 7 | 8 | 9 | 10 | 11 | 12 | 13 | 14 | 15 | 16 | 17 | 18 | 19 | 20 | 21 | 22 | 23 | 24 | 25 | 26 | 27 | 28 | 29 | 30 | |
| May 2024 | 1 | 2 | 3 | 4 | 5 | 6 | 7 | 8 | 9 | 10 | 11 | 12 | 13 | 14 | 15 | 16 | 17 | 18 | 19 | 20 | 21 | 22 | 23 | 24 | 25 | 26 | 27 | 28 | 29 | 30 | 31 |
---