FOXY LADY
$31,500 - $36,500 / WEEK
---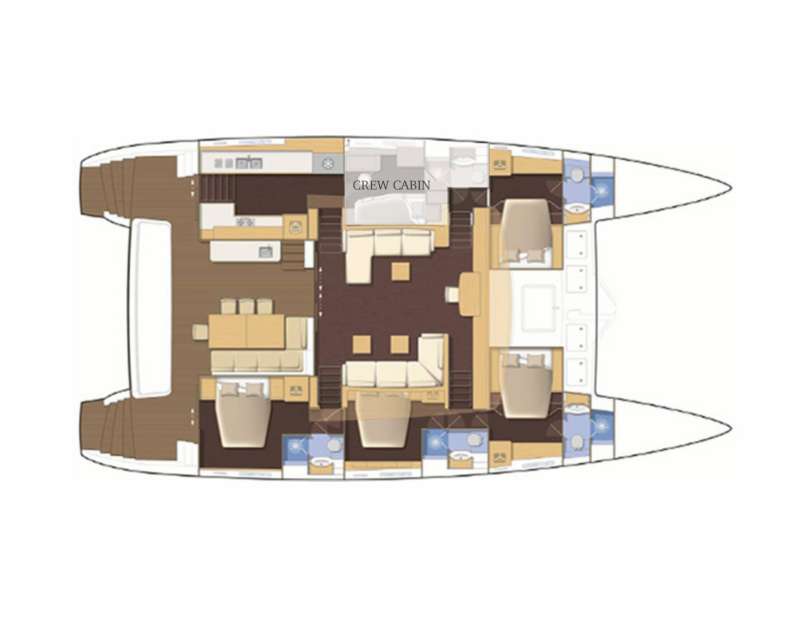 Boat Details
| | |
| --- | --- |
| Cabins: | 4 |
| Queen: | 4 |
| Single Cabins: | 1 |
| Showers: | 4 |
| Wash Basins: | 4 |
| Heads: | - |
| Electric Heads: | 4 |
Pick Up Locations
| | |
| --- | --- |
| Pref. Pick-up: | Nanny Cay, BVI |
| Other Pick-up: | Trellis Bay |
---
Details
| | |
| --- | --- |
| Refit: | - |
| Helipad: | No |
| Jacuzzi: | No |
| A/C: | Full |
Engine Details
2 X Volvo D3 150 HP Engines and Onam 17.5 KW and a Secondary 11KW
Fuel Consumption:
-
Cruising Speed:
7
Max Speed:
10US Gall/Hr
Locations
| | |
| --- | --- |
| Winter Area: | Caribbean Virgin Islands (BVI) |
| Summer Area: | Caribbean Windwards, Caribbean Virgin Islands (BVI) |
---
Amenities
Salon Tv/VCR:
Yes
Salon Stereo:
Yes
Sat Tv:
USB to take home all the pictures with you.
Boat Phone - Guests may use this in an emergency.
Unlimited Wifi on board when cruising in the British Virgin Islands.
# of Videos:
-
# DVDs/Movies:
100+
# CD's:
100+
Camcorder:
No
Books:
30+
Board Games:
Yes
Sun Awning:
Yes
Deck Shower:
Yes
Bimini:
Yes
Water Maker:
Yes
| | |
| --- | --- |
| Special Diets: | Yes |
| Kosher: | No |
| BBQ: | Yes |
| # Dine In: | 8 |
| Minimum Age: | None |
| Generator: | 17 Kw & 11Kw |
| Inverter: | Yes |
| Voltages: | 220v + 110V adapters |
| Water Maker: | Yes |
| Water Cap: | - |
| Ice Maker: | Yes |
| Sailing Instructions: | No |
| Internet Access: | Onboard WIFI |
| | |
| --- | --- |
| Gay Charters: | Yes |
| Nude: | Yes |
| Hairdryers: | Yes |
| # Port Hatches: | 12 |
| Guests Smokes: | Stern steps only |
| Crew Smokes: | No |
| Pets Aboard: | No |
| Pet Type: | - |
| Guest Pets: | No |
| Children Ok: | Yes |
| Hammock: | No |
| Windscoops: | No |
---
Water Sports
| | |
| --- | --- |
| Dinghy size: | NEW 16' Cntr Console |
| Dinghy hp: | 70HP |
| Dinghy # pax: | 10 |
| Water Skis Adult: | Yes |
| Water Skis Kids: | Yes |
| Jet Skis: | No |
| Wave Runners: | No |
| Kneeboard: | Yes |
| Windsurfer: | No |
| Snorkel Gear: | Yes |
| Tube: | Yes |
| | |
| --- | --- |
| Scurfer: | No |
| Wake Board: | Yes |
| Kayaks 1 Pax: | 2 |
| Kayaks (2 Pax): | No |
| Floating Mats: | Yes |
| Swim Platform: | Scoop sterns |
| Boarding Ladder (Loc/Type): | Aft |
| Sailing Dinghy: | No |
| Beach Games: | No |
| Fishing Gear: | Yes |
| Gear Type: | 2 X Trolling rods; 2 X Casting |
| Rods: | 4 |
Jos Smart and Julia Taylor hail from England and the Royals have nothing on them!

Meeting in Greece whilst teaching watersports, Jos and Julia have travelled and worked together in the hospitality industry for the last 9 years, and within yachting for the last 7 years. They love what they do and are committed to creating vacations you will remember for a lifetime.

Jos is a Yachtmaster certified by the Royal Yachting Association with all the necessary credentials to safely captain Foxy Lady throughout your voyage. Jos' competency at the helm is equally balanced by a passion for adventure. He spent his younger years on the water, diving, windsurfing, sailing dinghies, and he loves to fish as well! Jos will be your Divemaster onboard and will show you the magic of the underwater world in the Caribbean.

Julia has over 12 years of experience in the hospitality industry within hotels, ski chalets, and sailing yachts. Her culinary skills were honed at the acclaimed Ashburton Cookery School in Devon, England. Julia has a tender heart and gentle nature having worked as a school teacher earlier in her career. She is ready to use her hospitality and culinary skills to create the perfect menu for you.

Aboard Foxy Lady, Jos and Julia will combine their passion for service, cuisine, and adventure, so, sit back, relax and let the fun begin!


*** NEW CREW FOR 2022-2023 SEASON ***

Rob and Becky Willows were born and raised in South Africa, they are both avid travelers who have managed to check off every continent separately and together.

Rob is a commercially endorsed Royal Yachting Association Captain with many years of sailing behind him. Having grown up racing dinghies and sailing bigger yachts, he is incredibly knowledgeable and capable behind the helm. You will definitely feel safe with Rob, both in and on the water. He loves to be in the water too, and show you all the incredible beauty that lies beneath the waves. Rob is also a whizz in the galley and is known for his breakfast and BBQ grill skills.

Becky has been a food lover her whole life having grown up in an extended family of chefs. Having gone to culinary school in South Africa, a cultural melting pot, her cuisine is varied and exciting. She loves taking care of people and seems to know what you want and need before you do. Not only adept in the kitchen, she is also quite a capable sailor herself.

Together, Rob and Becky are a super team, and will go out of their way to ensure that you have the best sailing vacation possible.




Crew are fully vaccinated for Covid 19.
(15 December -30 April)
Caribbean Virgin Islands (BVI)
(1 May - 14 December)
Caribbean Windwards, Caribbean Virgin Islands (BVI)
| | | | | | | | | | | | | | | | | | | | | | | | | | | | | | | | |
| --- | --- | --- | --- | --- | --- | --- | --- | --- | --- | --- | --- | --- | --- | --- | --- | --- | --- | --- | --- | --- | --- | --- | --- | --- | --- | --- | --- | --- | --- | --- | --- |
| Jun 2022 | 1 | 2 | 3 | 4 | 5 | 6 | 7 | 8 | 9 | 10 | 11 | 12 | 13 | 14 | 15 | 16 | 17 | 18 | 19 | 20 | 21 | 22 | 23 | 24 | 25 | 26 | 27 | 28 | 29 | 30 | |
| Jul 2022 | 1 | 2 | 3 | 4 | 5 | 6 | 7 | 8 | 9 | 10 | 11 | 12 | 13 | 14 | 15 | 16 | 17 | 18 | 19 | 20 | 21 | 22 | 23 | 24 | 25 | 26 | 27 | 28 | 29 | 30 | 31 |
| Aug 2022 | 1 | 2 | 3 | 4 | 5 | 6 | 7 | 8 | 9 | 10 | 11 | 12 | 13 | 14 | 15 | 16 | 17 | 18 | 19 | 20 | 21 | 22 | 23 | 24 | 25 | 26 | 27 | 28 | 29 | 30 | 31 |
| Sep 2022 | 1 | 2 | 3 | 4 | 5 | 6 | 7 | 8 | 9 | 10 | 11 | 12 | 13 | 14 | 15 | 16 | 17 | 18 | 19 | 20 | 21 | 22 | 23 | 24 | 25 | 26 | 27 | 28 | 29 | 30 | |
| Oct 2022 | 1 | 2 | 3 | 4 | 5 | 6 | 7 | 8 | 9 | 10 | 11 | 12 | 13 | 14 | 15 | 16 | 17 | 18 | 19 | 20 | 21 | 22 | 23 | 24 | 25 | 26 | 27 | 28 | 29 | 30 | 31 |
| Nov 2022 | 1 | 2 | 3 | 4 | 5 | 6 | 7 | 8 | 9 | 10 | 11 | 12 | 13 | 14 | 15 | 16 | 17 | 18 | 19 | 20 | 21 | 22 | 23 | 24 | 25 | 26 | 27 | 28 | 29 | 30 | |
| Dec 2022 | 1 | 2 | 3 | 4 | 5 | 6 | 7 | 8 | 9 | 10 | 11 | 12 | 13 | 14 | 15 | 16 | 17 | 18 | 19 | 20 | 21 | 22 | 23 | 24 | 25 | 26 | 27 | 28 | 29 | 30 | 31 |
| Jan 2023 | 1 | 2 | 3 | 4 | 5 | 6 | 7 | 8 | 9 | 10 | 11 | 12 | 13 | 14 | 15 | 16 | 17 | 18 | 19 | 20 | 21 | 22 | 23 | 24 | 25 | 26 | 27 | 28 | 29 | 30 | 31 |
| Feb 2023 | 1 | 2 | 3 | 4 | 5 | 6 | 7 | 8 | 9 | 10 | 11 | 12 | 13 | 14 | 15 | 16 | 17 | 18 | 19 | 20 | 21 | 22 | 23 | 24 | 25 | 26 | 27 | 28 | | | |
| Mar 2023 | 1 | 2 | 3 | 4 | 5 | 6 | 7 | 8 | 9 | 10 | 11 | 12 | 13 | 14 | 15 | 16 | 17 | 18 | 19 | 20 | 21 | 22 | 23 | 24 | 25 | 26 | 27 | 28 | 29 | 30 | 31 |
| Apr 2023 | 1 | 2 | 3 | 4 | 5 | 6 | 7 | 8 | 9 | 10 | 11 | 12 | 13 | 14 | 15 | 16 | 17 | 18 | 19 | 20 | 21 | 22 | 23 | 24 | 25 | 26 | 27 | 28 | 29 | 30 | |
| May 2023 | 1 | 2 | 3 | 4 | 5 | 6 | 7 | 8 | 9 | 10 | 11 | 12 | 13 | 14 | 15 | 16 | 17 | 18 | 19 | 20 | 21 | 22 | 23 | 24 | 25 | 26 | 27 | 28 | 29 | 30 | 31 |
---