FOXY LADY
$35,500 - $40,500 / WEEK
---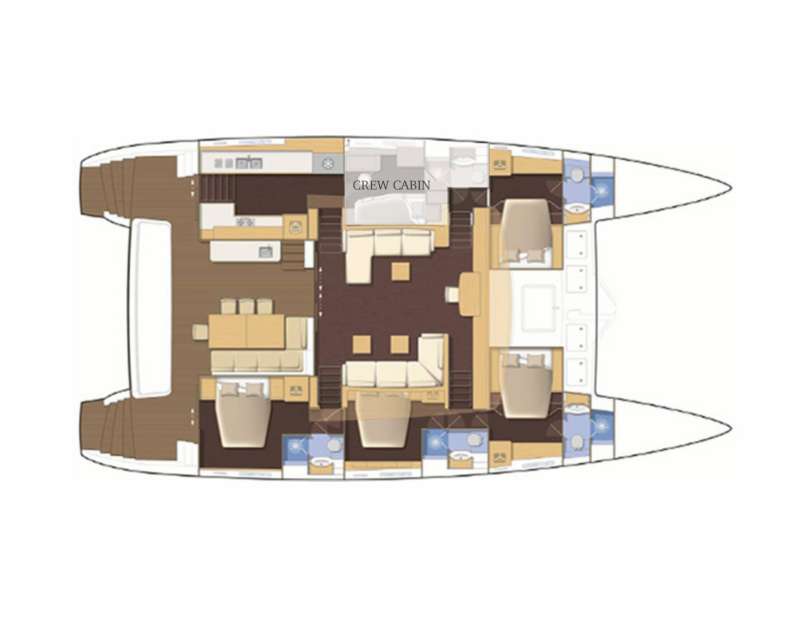 Boat Details
| | |
| --- | --- |
| Cabins: | 4 |
| Queen: | 4 |
| Single Cabins: | 1 |
| Showers: | 4 |
| Wash Basins: | 4 |
| Heads: | - |
| Electric Heads: | 4 |
Pick Up Locations
| | |
| --- | --- |
| Pref. Pick-up: | Nanny Cay, BVI |
| Other Pick-up: | Trellis Bay |
---
Details
| | |
| --- | --- |
| Refit: | 2023 |
| Helipad: | No |
| Jacuzzi: | No |
| A/C: | Full |
Engine Details
Summer 2023 2 x Yanmar 110HP Engines Summer 2023 Northern Lights 20KW Generator
Fuel Consumption:
-
Cruising Speed:
7
Max Speed:
10US Gall/Hr
Locations
| | |
| --- | --- |
| Winter Area: | Caribbean Virgin Islands (BVI) |
| Summer Area: | Caribbean Windwards, Caribbean Virgin Islands (BVI) |
---
Amenities
Salon Tv/VCR:
Yes
Salon Stereo:
Yes
Sat Tv:
USB to take home all the pictures with you.
Boat Phone - Guests may use this in an emergency.
Fall 2023 STARLINK for Unlimited Wifi on board when cruising in the British Virgin Islands.
# of Videos:
-
# DVDs/Movies:
100+
# CD's:
100+
Camcorder:
No
Books:
30+
Board Games:
Yes
Sun Awning:
Yes
Deck Shower:
Yes
Bimini:
Yes
Water Maker:
Yes
| | |
| --- | --- |
| Special Diets: | Yes |
| Kosher: | No |
| BBQ: | Yes |
| # Dine In: | 8 |
| Minimum Age: | None |
| Generator: | 17 Kw & 11Kw |
| Inverter: | Yes |
| Voltages: | 220v + 110V adapters |
| Water Maker: | Yes |
| Water Cap: | - |
| Ice Maker: | Yes |
| Sailing Instructions: | No |
| Internet Access: | Onboard WIFI |
| | |
| --- | --- |
| Gay Charters: | Yes |
| Nude: | Yes |
| Hairdryers: | Yes |
| # Port Hatches: | 12 |
| Guests Smokes: | Stern steps only |
| Crew Smokes: | No |
| Pets Aboard: | No |
| Pet Type: | - |
| Guest Pets: | No |
| Children Ok: | Yes |
| Hammock: | No |
| Windscoops: | No |
---
Water Sports
| | |
| --- | --- |
| Dinghy size: | NEW 16' Cntr Console |
| Dinghy hp: | 70HP |
| Dinghy # pax: | 10 |
| Water Skis Adult: | Yes |
| Water Skis Kids: | Yes |
| Jet Skis: | No |
| Wave Runners: | No |
| Kneeboard: | Yes |
| Windsurfer: | No |
| Snorkel Gear: | Yes |
| Tube: | Yes |
| | |
| --- | --- |
| Scurfer: | No |
| Wake Board: | Yes |
| Kayaks 1 Pax: | 2 |
| Kayaks (2 Pax): | No |
| Floating Mats: | Yes |
| Swim Platform: | Scoop sterns |
| Boarding Ladder (Loc/Type): | Aft |
| Sailing Dinghy: | No |
| Beach Games: | No |
| Fishing Gear: | Yes |
| Gear Type: | 2 X Trolling rods; 2 X Casting |
| Rods: | 4 |
NEW CREW FOR 2022-2023 SEASON

Rob and Becky Willows were born and raised in South Africa, they are both avid travelers who have managed to check off every continent separately and together.
Having chartered in the British Virgin Islands for the past 7 years, their experience in this area is invaluable.
Married for 5 years, together for 10, chartering alongside one another has become a dance they both move together in step to.

Rob is a commercially endorsed Royal Yachting Association Captain with many years of sailing behind him. Having grown up racing dinghies and sailing bigger yachts, he is incredibly knowledgeable and capable behind the helm. You will definitely feel safe with Rob, both in and on the water. He loves to be in the water too, and show you all the incredible beauty that lies beneath the waves. Rob is a whizz in the galley and is known for his breakfast and BBQ grill skills.

Becky has been a food lover her whole life having grown up in an extended family of chefs. Having gone to culinary school in South Africa, a cultural melting pot, her cuisine is varied and exciting. She loves taking care of people and seems to know what you want and need before you do. Not only adept in the kitchen, she is quite a capable sailor herself.

Together, Rob and Becky are a super team, and will go out of their way to ensure that you have the best sailing vacation possible.

The supporting third crew member will join them during high season:

Danika Willows formative years took place in the family guest lodge. Her hospitality is intuitive. Accustomed to hard work and she is used to demanding clients. Danika enjoys hiking, swimming, traveling and singing.

After tentatively exploring various temporary boating day work opportunities, now she is embarking on a full-time marine career. Danika will again complement the family team dynamics to provide 5 star service.

Crew are fully vaccinated for Covid 19.
(15 December -30 April)
Caribbean Virgin Islands (BVI)
(1 May - 14 December)
Caribbean Windwards, Caribbean Virgin Islands (BVI)
| | | | | | | | | | | | | | | | | | | | | | | | | | | | | | | | |
| --- | --- | --- | --- | --- | --- | --- | --- | --- | --- | --- | --- | --- | --- | --- | --- | --- | --- | --- | --- | --- | --- | --- | --- | --- | --- | --- | --- | --- | --- | --- | --- |
| Aug 2023 | 1 | 2 | 3 | 4 | 5 | 6 | 7 | 8 | 9 | 10 | 11 | 12 | 13 | 14 | 15 | 16 | 17 | 18 | 19 | 20 | 21 | 22 | 23 | 24 | 25 | 26 | 27 | 28 | 29 | 30 | 31 |
| Sep 2023 | 1 | 2 | 3 | 4 | 5 | 6 | 7 | 8 | 9 | 10 | 11 | 12 | 13 | 14 | 15 | 16 | 17 | 18 | 19 | 20 | 21 | 22 | 23 | 24 | 25 | 26 | 27 | 28 | 29 | 30 | |
| Oct 2023 | 1 | 2 | 3 | 4 | 5 | 6 | 7 | 8 | 9 | 10 | 11 | 12 | 13 | 14 | 15 | 16 | 17 | 18 | 19 | 20 | 21 | 22 | 23 | 24 | 25 | 26 | 27 | 28 | 29 | 30 | 31 |
| Nov 2023 | 1 | 2 | 3 | 4 | 5 | 6 | 7 | 8 | 9 | 10 | 11 | 12 | 13 | 14 | 15 | 16 | 17 | 18 | 19 | 20 | 21 | 22 | 23 | 24 | 25 | 26 | 27 | 28 | 29 | 30 | |
| Dec 2023 | 1 | 2 | 3 | 4 | 5 | 6 | 7 | 8 | 9 | 10 | 11 | 12 | 13 | 14 | 15 | 16 | 17 | 18 | 19 | 20 | 21 | 22 | 23 | 24 | 25 | 26 | 27 | 28 | 29 | 30 | 31 |
| Jan 2024 | 1 | 2 | 3 | 4 | 5 | 6 | 7 | 8 | 9 | 10 | 11 | 12 | 13 | 14 | 15 | 16 | 17 | 18 | 19 | 20 | 21 | 22 | 23 | 24 | 25 | 26 | 27 | 28 | 29 | 30 | 31 |
| Feb 2024 | 1 | 2 | 3 | 4 | 5 | 6 | 7 | 8 | 9 | 10 | 11 | 12 | 13 | 14 | 15 | 16 | 17 | 18 | 19 | 20 | 21 | 22 | 23 | 24 | 25 | 26 | 27 | 28 | 29 | | |
| Mar 2024 | 1 | 2 | 3 | 4 | 5 | 6 | 7 | 8 | 9 | 10 | 11 | 12 | 13 | 14 | 15 | 16 | 17 | 18 | 19 | 20 | 21 | 22 | 23 | 24 | 25 | 26 | 27 | 28 | 29 | 30 | 31 |
| Apr 2024 | 1 | 2 | 3 | 4 | 5 | 6 | 7 | 8 | 9 | 10 | 11 | 12 | 13 | 14 | 15 | 16 | 17 | 18 | 19 | 20 | 21 | 22 | 23 | 24 | 25 | 26 | 27 | 28 | 29 | 30 | |
| May 2024 | 1 | 2 | 3 | 4 | 5 | 6 | 7 | 8 | 9 | 10 | 11 | 12 | 13 | 14 | 15 | 16 | 17 | 18 | 19 | 20 | 21 | 22 | 23 | 24 | 25 | 26 | 27 | 28 | 29 | 30 | 31 |
| Jun 2024 | 1 | 2 | 3 | 4 | 5 | 6 | 7 | 8 | 9 | 10 | 11 | 12 | 13 | 14 | 15 | 16 | 17 | 18 | 19 | 20 | 21 | 22 | 23 | 24 | 25 | 26 | 27 | 28 | 29 | 30 | |
| Jul 2024 | 1 | 2 | 3 | 4 | 5 | 6 | 7 | 8 | 9 | 10 | 11 | 12 | 13 | 14 | 15 | 16 | 17 | 18 | 19 | 20 | 21 | 22 | 23 | 24 | 25 | 26 | 27 | 28 | 29 | 30 | 31 |
---