LEVERAGE
$105,000 - $115,000 / WEEK
---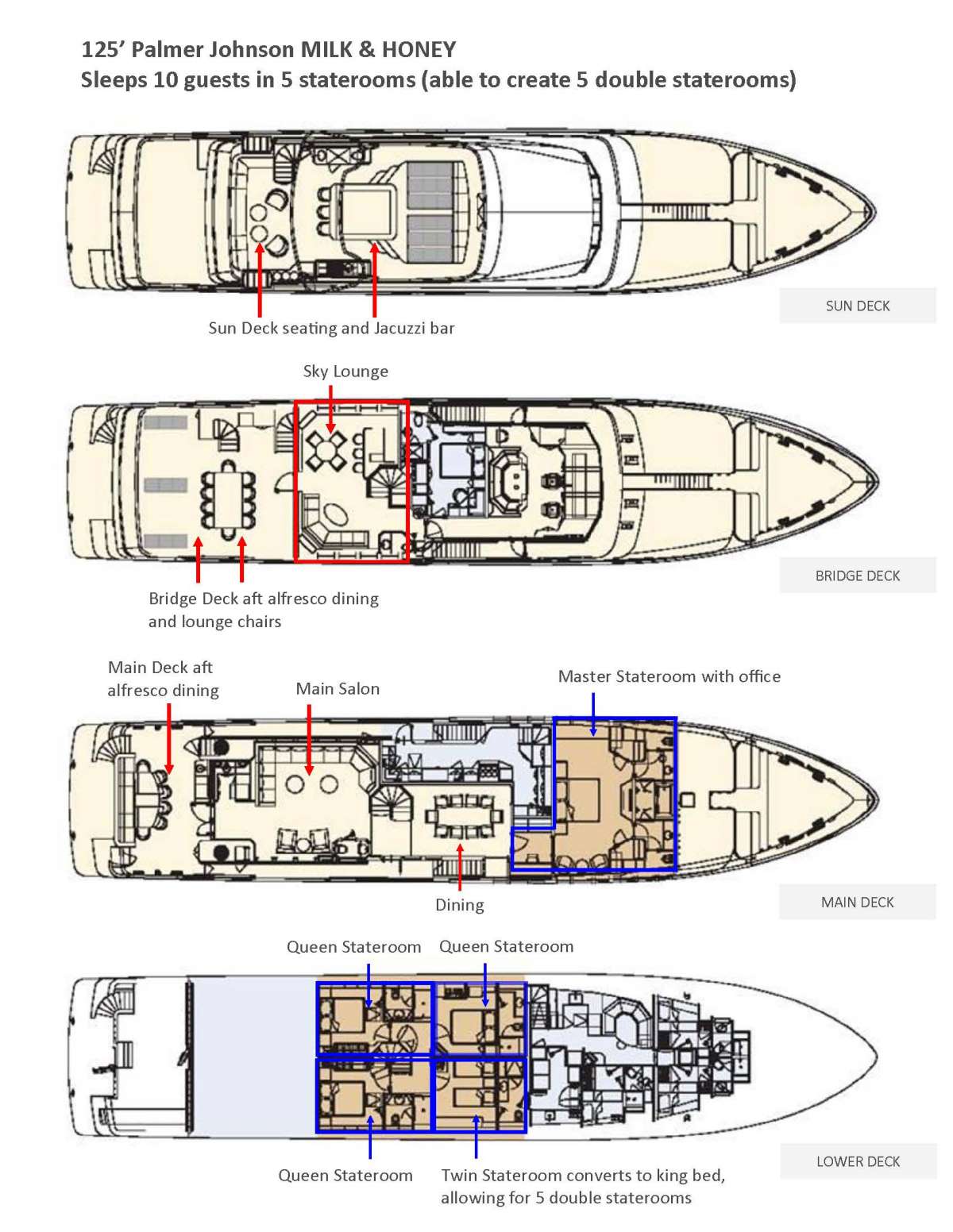 Boat Details
| | |
| --- | --- |
| Cabins: | 5 |
| Queen: | 3 |
| Single Cabins: | 1 |
| Showers: | 5 |
| Wash Basins: | 5 |
| Heads: | 5 |
| Electric Heads: | - |
Pick Up Locations
| | |
| --- | --- |
| Pref. Pick-up: | Nassau, Bahamas |
| Other Pick-up: | Nassau, Bahamas |
---
Details
| | |
| --- | --- |
| Refit: | 2020 |
| Helipad: | No |
| Jacuzzi: | Yes |
| A/C: | Full |
Engine Details
Engines: 2 x MTU 16 2000 Generators: 2 x 80KW Northern Lights Fuel: 12,460 gallons Water: 1,800 gallons
Fuel Consumption:
75
Cruising Speed:
11.5
Max Speed:
16US Gall/Hr
Locations
| | |
| --- | --- |
| Winter Area: | Bahamas |
| Summer Area: | Bahamas |
---
Amenities
Salon Tv/VCR:
Yes
Salon Stereo:
Yes
Sat Tv:
Communications and Comfort at its best
LEVERAGE offers STARLINK High speed internet at NO CHARGE and ZERO SPEED At Anchor stabilizers!
Satcom
Cell phone
Fax
Ipod hook up and cell phone charging stations in each room
# of Videos:
-
# DVDs/Movies:
lots
# CD's:
-
Camcorder:
-
Books:
lots
Board Games:
Yes
Sun Awning:
Yes
Deck Shower:
Yes
Bimini:
Yes
Water Maker:
yes
| | |
| --- | --- |
| Special Diets: | Yes |
| Kosher: | Inq |
| BBQ: | Yes |
| # Dine In: | - |
| Minimum Age: | - |
| Generator: | 2 x 80KW Northern Lights |
| Inverter: | - |
| Voltages: | 110 |
| Water Maker: | yes |
| Water Cap: | 2,000 |
| Ice Maker: | Yes |
| Sailing Instructions: | no |
| Internet Access: | Onboard WIFI |
| | |
| --- | --- |
| Gay Charters: | Yes |
| Nude: | Yes |
| Hairdryers: | Yes |
| # Port Hatches: | - |
| Guests Smokes: | - |
| Crew Smokes: | No |
| Pets Aboard: | No |
| Pet Type: | - |
| Guest Pets: | - |
| Children Ok: | Yes |
| Hammock: | - |
| Windscoops: | - |
---
Water Sports
| | |
| --- | --- |
| Dinghy size: | 28' Regultor |
| Dinghy hp: | 600 |
| Dinghy # pax: | - |
| Water Skis Adult: | Yes |
| Water Skis Kids: | Yes |
| Jet Skis: | No |
| Wave Runners: | 2 |
| Kneeboard: | 1 |
| Windsurfer: | No |
| Snorkel Gear: | Yes |
| Tube: | Yes |
| | |
| --- | --- |
| Scurfer: | No |
| Wake Board: | Yes |
| Kayaks 1 Pax: | No |
| Kayaks (2 Pax): | 2 |
| Floating Mats: | Yes |
| Swim Platform: | YES |
| Boarding Ladder (Loc/Type): | Yes |
| Sailing Dinghy: | no |
| Beach Games: | Yes |
| Fishing Gear: | Yes |
| Gear Type: | - |
| Rods: | - |
CAPTAIN Wesley Trowell | American
Captain Wes started his passion for boating, fishing, and watersports at a very young age which developed his enthusiasm for all things water, ranging from owning his own jet ski / boat rental company, to working in the sports fishing industry, to being a sought-after charter yacht captain. He is a team player and he has a talent for working shoulder to shoulder with his crew to provide a full service, top-notch charter experience. He is a diligent and straight-forward person, and is strong on service and communication. He enjoys having families onboard as he is a family man with 2 children of his own. He has risen through the yachting ranks in various positions over the past 20 years, ranging from chief engineer to chief officer to captain on various superyachts. With over 80+ charters under his belt, Wesley is well-versed in popular cruising areas including the Bahamas, Caribbean, Florida, New England, Canada, Mexico, Cuba, and many more places. Captain Wes and his crew will show you a memorable charter experience. Captain Wes has previously worked on yachts such as: M/Y VIBRANCE 164' Amels, M/Y CLAIRE 150' Trinity, M/Y ATOMIC 148' Sunrise, M/Y SPIRIT 124' Delta, M/Y PASSION 112' Lazzarra, M/Y IL CAPO 110' Broward.

CHEF Chris Tsardounis | American
As chef onboard LEVERAGE, Chef Chris Tsardounis brings a wealth of culinary experiences and talents. He started his career as Sous Chef and then Executive Chef at two of Todd English's restaurants in Boston and progressing to Barbara Lynch's No 9 Park Street in Boston, and Sous Chef at YOLO in downtown Fort Lauderdale. From a yachting perspective, Chef Chris has previously held the position of Head Chef on M/Y UTOPIA IV and M/Y TAKE FIVE.

STEWARDESS Rachel Parker | American
As Stewardess on board, Rachel brings experience in all Interior Departments. Prior to LEVERAGE, Rachel worked on 43m Richmond Yacht SUNCHASER and 34m Broward SAVOIR-FAIRE. Rachel's prior education in finance and accounting has taught her how to multitask effectively. Her outside interests include skiing, hiking, and movies.

STEWARDESS Stephanie Girdlestone | American
Stephanie brings experience in all interior departments. Prior to yachting, Stephanie was a Corporate Inventory Manager. Her outside interests include hiking, fitness, and snorkeling. She is a professional, harding working individual.

MATE Gordon Pierce |American
Gordon has 8 ½ years of service in the yachting industry including positions on M/Y SIMA 30m (mate/relief skipper); M/Y EBONY SHINE 76m (bosun;) M/Y LADY LOLA 60m(deckhand); and M/Y CAKEWALK 85m (water-sports deckhand). His skills range from tender driving for all types of water sports to extensive deck department knowledge including maintenance and repair. He is a confident deck team leader. Gordon is fully competent, energetic, and enthusiastic team player which comes across to LEVERAGE's guests the minute they walk onboard.

ENGINEER Nick Dysart |American
Nick has held engineer, bosun, and mate positions including 2 previous stints on LEVERAGE (ex-MILK & HONEY), the 150' Trinity M/Y UTOPIA III, and 105' Catamaran BELLA VITA. In keeping with his diverse skill sets, he is often visible helping his fellow crewmembers, and is equally comfortable on deck and in keeping LEVERAGE running smoothly.

DECKHAND Adam Shapiro | American
Adam comes to the boat with a wide background in the maritime industry. From racing sailboats to working in aquaculture and as a contractor for the Navy, he has a lot to pull from. Most recently, he was mate aboard a classic sailing yacht cruising Maine and Long Island Sound. He loves being on the water whether he is out tuna fishing, snorkeling, or coaching the high school sailing team. Always ready to laugh and enjoy life, he will be ready to show you a great experience onboard LEVERAGE.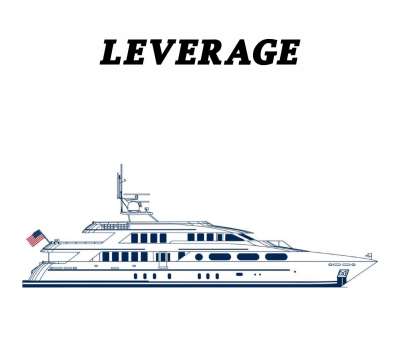 (15 December -30 April)
Bahamas
(1 May - 14 December)
Bahamas
| | | | | | | | | | | | | | | | | | | | | | | | | | | | | | | | |
| --- | --- | --- | --- | --- | --- | --- | --- | --- | --- | --- | --- | --- | --- | --- | --- | --- | --- | --- | --- | --- | --- | --- | --- | --- | --- | --- | --- | --- | --- | --- | --- |
| Jan 2024 | 1 | 2 | 3 | 4 | 5 | 6 | 7 | 8 | 9 | 10 | 11 | 12 | 13 | 14 | 15 | 16 | 17 | 18 | 19 | 20 | 21 | 22 | 23 | 24 | 25 | 26 | 27 | 28 | 29 | 30 | 31 |
| Feb 2024 | 1 | 2 | 3 | 4 | 5 | 6 | 7 | 8 | 9 | 10 | 11 | 12 | 13 | 14 | 15 | 16 | 17 | 18 | 19 | 20 | 21 | 22 | 23 | 24 | 25 | 26 | 27 | 28 | 29 | | |
| Mar 2024 | 1 | 2 | 3 | 4 | 5 | 6 | 7 | 8 | 9 | 10 | 11 | 12 | 13 | 14 | 15 | 16 | 17 | 18 | 19 | 20 | 21 | 22 | 23 | 24 | 25 | 26 | 27 | 28 | 29 | 30 | 31 |
| Apr 2024 | 1 | 2 | 3 | 4 | 5 | 6 | 7 | 8 | 9 | 10 | 11 | 12 | 13 | 14 | 15 | 16 | 17 | 18 | 19 | 20 | 21 | 22 | 23 | 24 | 25 | 26 | 27 | 28 | 29 | 30 | |
| May 2024 | 1 | 2 | 3 | 4 | 5 | 6 | 7 | 8 | 9 | 10 | 11 | 12 | 13 | 14 | 15 | 16 | 17 | 18 | 19 | 20 | 21 | 22 | 23 | 24 | 25 | 26 | 27 | 28 | 29 | 30 | 31 |
| Jun 2024 | 1 | 2 | 3 | 4 | 5 | 6 | 7 | 8 | 9 | 10 | 11 | 12 | 13 | 14 | 15 | 16 | 17 | 18 | 19 | 20 | 21 | 22 | 23 | 24 | 25 | 26 | 27 | 28 | 29 | 30 | |
| Jul 2024 | 1 | 2 | 3 | 4 | 5 | 6 | 7 | 8 | 9 | 10 | 11 | 12 | 13 | 14 | 15 | 16 | 17 | 18 | 19 | 20 | 21 | 22 | 23 | 24 | 25 | 26 | 27 | 28 | 29 | 30 | 31 |
| Aug 2024 | 1 | 2 | 3 | 4 | 5 | 6 | 7 | 8 | 9 | 10 | 11 | 12 | 13 | 14 | 15 | 16 | 17 | 18 | 19 | 20 | 21 | 22 | 23 | 24 | 25 | 26 | 27 | 28 | 29 | 30 | 31 |
| Sep 2024 | 1 | 2 | 3 | 4 | 5 | 6 | 7 | 8 | 9 | 10 | 11 | 12 | 13 | 14 | 15 | 16 | 17 | 18 | 19 | 20 | 21 | 22 | 23 | 24 | 25 | 26 | 27 | 28 | 29 | 30 | |
| Oct 2024 | 1 | 2 | 3 | 4 | 5 | 6 | 7 | 8 | 9 | 10 | 11 | 12 | 13 | 14 | 15 | 16 | 17 | 18 | 19 | 20 | 21 | 22 | 23 | 24 | 25 | 26 | 27 | 28 | 29 | 30 | 31 |
| Nov 2024 | 1 | 2 | 3 | 4 | 5 | 6 | 7 | 8 | 9 | 10 | 11 | 12 | 13 | 14 | 15 | 16 | 17 | 18 | 19 | 20 | 21 | 22 | 23 | 24 | 25 | 26 | 27 | 28 | 29 | 30 | |
| Dec 2024 | 1 | 2 | 3 | 4 | 5 | 6 | 7 | 8 | 9 | 10 | 11 | 12 | 13 | 14 | 15 | 16 | 17 | 18 | 19 | 20 | 21 | 22 | 23 | 24 | 25 | 26 | 27 | 28 | 29 | 30 | 31 |
---