BODHISATTVA (Caribbean)
$17,700 - $22,000 / WEEK
BUILT/REFIT
YEAR
2017.2018
---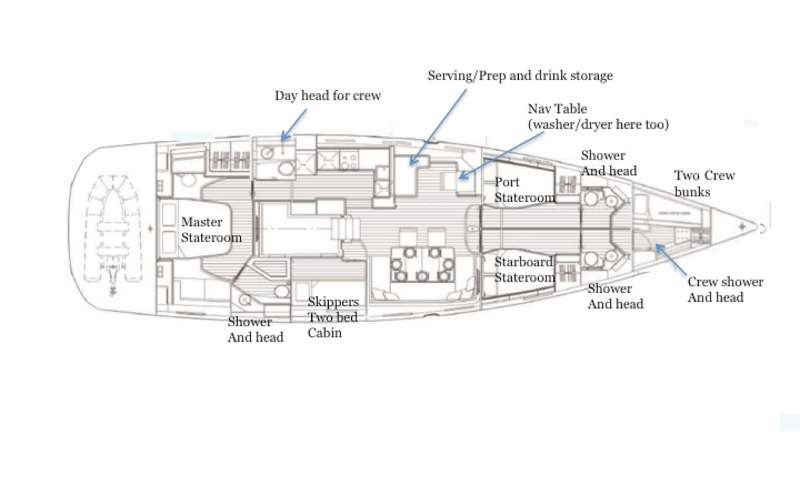 Boat Details
| | |
| --- | --- |
| Cabins: | 3 |
| Queen: | 2 |
| Single Cabins: | 1 |
| Showers: | 3 |
| Wash Basins: | 3 |
| Heads: | 3 |
| Electric Heads: | 3 |
Pick Up Locations
| | |
| --- | --- |
| Pref. Pick-up: | St. Thomas, USVI |
| Other Pick-up: | BVI - inquire, limit 7 |
---
Details
| | |
| --- | --- |
| Refit: | - |
| Helipad: | No |
| Jacuzzi: | No |
| A/C: | Full |
Engine Details
180hp Volvo and 17,5kw ONAN
Fuel Consumption:
20
Cruising Speed:
8knts
Max Speed:
12knts+US Gall/Hr
Locations
| | |
| --- | --- |
| Winter Area: | Caribbean Leewards, Caribbean Windwards |
| Summer Area: | Caribbean Leewards, Caribbean Windwards |
---
Amenities
| | |
| --- | --- |
| Salon Tv/VCR: | Yes |
| Salon Stereo: | Yes |
| Sat Tv: | - |
| # of Videos: | - |
| # DVDs/Movies: | Yes |
| # CD's: | Fusion Blu |
| Camcorder: | Yes |
| Books: | Yes |
| Board Games: | No |
| Sun Awning: | Yes |
| Deck Shower: | Yes |
| Bimini: | Yes |
| Water Maker: | 285L/75US |
| | |
| --- | --- |
| Special Diets: | Yes |
| Kosher: | No |
| BBQ: | Yes |
| # Dine In: | - |
| Minimum Age: | N/A |
| Generator: | yes |
| Inverter: | Yes |
| Voltages: | 110V |
| Water Maker: | 285L/75US |
| Water Cap: | - |
| Ice Maker: | Yes |
| Sailing Instructions: | no |
| Internet Access: | Onboard WIFI |
| | |
| --- | --- |
| Gay Charters: | Yes |
| Nude: | Yes |
| Hairdryers: | Yes |
| # Port Hatches: | - |
| Guests Smokes: | No |
| Crew Smokes: | No |
| Pets Aboard: | No |
| Pet Type: | N/A |
| Guest Pets: | No |
| Children Ok: | Yes |
| Hammock: | Yes |
| Windscoops: | No |
---
Water Sports
| | |
| --- | --- |
| Dinghy size: | 16' |
| Dinghy hp: | 60HP |
| Dinghy # pax: | 8 pax |
| Water Skis Adult: | Yes |
| Water Skis Kids: | No |
| Jet Skis: | No |
| Wave Runners: | No |
| Kneeboard: | No |
| Windsurfer: | No |
| Snorkel Gear: | Yes |
| Tube: | Yes |
| | |
| --- | --- |
| Scurfer: | No |
| Wake Board: | Yes |
| Kayaks 1 Pax: | No |
| Kayaks (2 Pax): | 1 |
| Floating Mats: | Yes |
| Swim Platform: | yes |
| Boarding Ladder (Loc/Type): | - |
| Sailing Dinghy: | no |
| Beach Games: | - |
| Fishing Gear: | No |
| Gear Type: | - |
| Rods: | - |


Jake grew up sailing and waterskiing on the North Norfolk Coast, England where from a young age he found a love for watersports, agriculture and fixing things with his grandfather.

When he found a way to transfer his agricultural engineering experience into the maritime world there was no looking back. Since then he has gained a number of sailing and waterskiing credentials in his career as a Yacht Captain.

Jake brings a level of professionalism and boundless enthusiasm to all that he does. He is always willing to share his knowledge and love of yachts. This alongside his keen eye for detail will ensure you have a smooth and unforgettable charter experience.

Kat first acquired a taste for sailing on dinghies with the Scouts and later racing on yachts at University.

Attending art school in London and studying Anthropology both in England and Canada, Kat's creative flair is now channeled through her love of delicious food and dining experiences.

Kat has lived, studied, travelled and worked across the globe taking inspiration from the many brilliant cultures and people she has met along the way. Out of the galley, Kat enjoys swimming and reading a book with her ultimate snack of wasabi peas.

Jake and Kat have spent 4 years working together in the yachting industry and in luxury ski chalets. The met running flotilla yachts in Greece and have worked together ever since throughout the Mediterranean, Caribbean and have crossed the Atlantic together racing in the ARC. Together they make a beautifully dynamic team committed to creating memorable and magical charters onboard SV Bodhisattva.
(15 December -30 April)
Caribbean Leewards, Caribbean Windwards
(1 May - 14 December)
Caribbean Leewards, Caribbean Windwards
| | | | | | | | | | | | | | | | | | | | | | | | | | | | | | | | |
| --- | --- | --- | --- | --- | --- | --- | --- | --- | --- | --- | --- | --- | --- | --- | --- | --- | --- | --- | --- | --- | --- | --- | --- | --- | --- | --- | --- | --- | --- | --- | --- |
| Jan 2022 | 1 | 2 | 3 | 4 | 5 | 6 | 7 | 8 | 9 | 10 | 11 | 12 | 13 | 14 | 15 | 16 | 17 | 18 | 19 | 20 | 21 | 22 | 23 | 24 | 25 | 26 | 27 | 28 | 29 | 30 | 31 |
| Feb 2022 | 1 | 2 | 3 | 4 | 5 | 6 | 7 | 8 | 9 | 10 | 11 | 12 | 13 | 14 | 15 | 16 | 17 | 18 | 19 | 20 | 21 | 22 | 23 | 24 | 25 | 26 | 27 | 28 | | | |
| Mar 2022 | 1 | 2 | 3 | 4 | 5 | 6 | 7 | 8 | 9 | 10 | 11 | 12 | 13 | 14 | 15 | 16 | 17 | 18 | 19 | 20 | 21 | 22 | 23 | 24 | 25 | 26 | 27 | 28 | 29 | 30 | 31 |
| Apr 2022 | 1 | 2 | 3 | 4 | 5 | 6 | 7 | 8 | 9 | 10 | 11 | 12 | 13 | 14 | 15 | 16 | 17 | 18 | 19 | 20 | 21 | 22 | 23 | 24 | 25 | 26 | 27 | 28 | 29 | 30 | |
| May 2022 | 1 | 2 | 3 | 4 | 5 | 6 | 7 | 8 | 9 | 10 | 11 | 12 | 13 | 14 | 15 | 16 | 17 | 18 | 19 | 20 | 21 | 22 | 23 | 24 | 25 | 26 | 27 | 28 | 29 | 30 | 31 |
| Jun 2022 | 1 | 2 | 3 | 4 | 5 | 6 | 7 | 8 | 9 | 10 | 11 | 12 | 13 | 14 | 15 | 16 | 17 | 18 | 19 | 20 | 21 | 22 | 23 | 24 | 25 | 26 | 27 | 28 | 29 | 30 | |
| Jul 2022 | 1 | 2 | 3 | 4 | 5 | 6 | 7 | 8 | 9 | 10 | 11 | 12 | 13 | 14 | 15 | 16 | 17 | 18 | 19 | 20 | 21 | 22 | 23 | 24 | 25 | 26 | 27 | 28 | 29 | 30 | 31 |
| Aug 2022 | 1 | 2 | 3 | 4 | 5 | 6 | 7 | 8 | 9 | 10 | 11 | 12 | 13 | 14 | 15 | 16 | 17 | 18 | 19 | 20 | 21 | 22 | 23 | 24 | 25 | 26 | 27 | 28 | 29 | 30 | 31 |
| Sep 2022 | 1 | 2 | 3 | 4 | 5 | 6 | 7 | 8 | 9 | 10 | 11 | 12 | 13 | 14 | 15 | 16 | 17 | 18 | 19 | 20 | 21 | 22 | 23 | 24 | 25 | 26 | 27 | 28 | 29 | 30 | |
| Oct 2022 | 1 | 2 | 3 | 4 | 5 | 6 | 7 | 8 | 9 | 10 | 11 | 12 | 13 | 14 | 15 | 16 | 17 | 18 | 19 | 20 | 21 | 22 | 23 | 24 | 25 | 26 | 27 | 28 | 29 | 30 | 31 |
| Nov 2022 | 1 | 2 | 3 | 4 | 5 | 6 | 7 | 8 | 9 | 10 | 11 | 12 | 13 | 14 | 15 | 16 | 17 | 18 | 19 | 20 | 21 | 22 | 23 | 24 | 25 | 26 | 27 | 28 | 29 | 30 | |
| Dec 2022 | 1 | 2 | 3 | 4 | 5 | 6 | 7 | 8 | 9 | 10 | 11 | 12 | 13 | 14 | 15 | 16 | 17 | 18 | 19 | 20 | 21 | 22 | 23 | 24 | 25 | 26 | 27 | 28 | 29 | 30 | 31 |
---